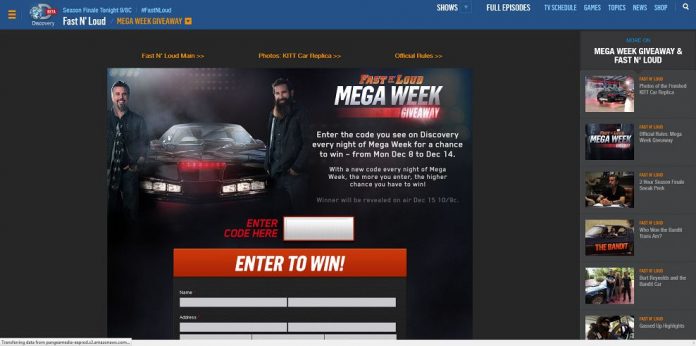 Tonight is the Fast N Loud season finale on Discovery Channel and it's also the night the Fast N' Loud Giveaway starts! Enter online at FastNLoudGiveaway.com every night of Mega Week starting at 9:00 PM ET for a chance to win a Knight Rider KITT Car valued at $40,000 and built by Richard and Aaron, motor mastermind and mechanical prodigy.
Find out how you could win this car below.
Watch For The Seven Code Words
To enter this giveaway, you'll need a code word. The first code word will be displayed during the 2-hour Fast N' Loud season finale when Richard Rawlings and Aaron Kaufman work to build the Knight Rider KITT Car. Then, each night from December 9 to December 15, 2014, a new code word will be displayed during the Mega Week, airing at 9:00 PM ET on Discovery Channel.
If you can't watch Discovery Channel or missed a code, you may also find the seven code words you will need to use to enter the giveaway below.
12/08/2014: #Classic80s
12/09/2014: #ShineNSpeed
12/10/2014: #DudeMobile
12/11/2014: #MegaWeekRide
12/12/2014: Come back tomorrow!
With a new code every night of Mega Week, the more you enter, the higher chance you have to win!
How To Enter Using The Code Word
Starting tonight at 10:45 PM, visit FastNLoudGiveaway.com and follow the instructions to complete the entry form. You'll need to provide your information such as your first name, last name, complete address and email. You will also need to enter the code you saw or heard during the Mega Week. Please note that each code may be entered from 9:00 PM ET the day it was revealed to 8:59 PM ET the next day.
Each correct code entry will result in a chance to win the grand prize. You may participate using a different code each day all this week (December 8, 2014 to December 15, 2014) and earn a maximum of seven entries into the giveaway.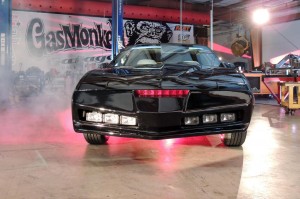 Win A Knight Rider KITT Car Replica
At the end of the giveaway, one winner will be awarded the car seen in tonight's episode of Fast N Loud. The car, a fully restored 1985 Pontiac Trans Am, is a replica of the KITT Car featured in Knight Rider, an American TV series starring David Hasselhoff that ran in the 80s. Winner will also receive a check in the amount of $16,000. A grand prize valued at a total of $56,000!
Eligibility
Open only to legal U.S. residents. Must be 18 years of age or older at the time of entry to participate.