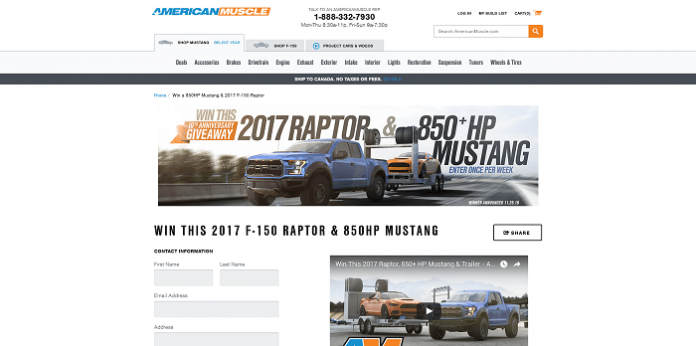 To celebrate its 10th anniversary, AmericanMuscle.com is inviting all muscle car lovers to enter a very special Giveaway at AmericanMuscle.com/Win. AmericanMuscle.com is giving away a 850+ HP 2015 Ford Mustang GT, a 2017 Ford F-150 Raptor and tying it all together with a custom aluminum race trailer to one lucky winner. You can enter weekly for your chance to win and become the envy of the road and track.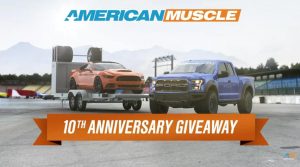 So here's the deal. AmericanMuscle.com built the ultimate street strip 2015 Mustang GT, featuring a Whipple supercharged 850+ crank horsepower, full exhaust, full suspension and more. On track days, it would also be nice to trailer your new Mustang, right? Well, AmericanMuscle.com is also throwing in a brand new, fully-loaded race trailer with all the tools you'll need, and a set of slicks and skinnies for a fun day of racing. And topping it all off, the baddest tow rig of all time, a 2017 Ford Raptor powered by a twin turbo EcoBoost motor backed by a 10-speed automatic transmission. This thing is going to be more powerful than the previous generation Raptor, with a rumored 450+ HP and the torque to match. Tough on the outside, luxury on the inside, this thing is going to be ultimate tow rig or daily driver.
Again, AmericanMuscle.com is giving away all of this! The Raptor, the Mustang, and the trailer to one very, very lucky winner. A grand prize valued at $100,000! Enter weekly at AmericanMuscle.com/Win for your chance at the ultimate gearhead giveaway from your Mustang and F-150 authority, AmericanMuscle.com.
Win At AmericanMuscle.com/Win
For a chance to win AmericanMuscle.com's 10th Anniversary Giveaway, participants can visit the promotional website at americanmuscle.com/win and register for the Giveaway. Participants must provide contact information such as their first name, last name, email address and mailing address.
The Giveaway starts on April 26, 2016 and runs until 11:55 p.m. ET on November 11, 2016. Participants are allowed to enter once per week throughout the Promotion Period, for a total of 28 total entries.
Who Is The Winner
One lucky winner will be selected in a random drawing to be conducted at 4:00 p.m. ET on November 14, 2016, from among all entries properly received during the Promotion Period.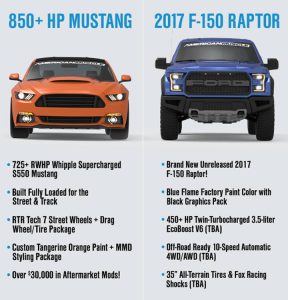 The Grand Prize consists of a giveaway prize package including the following elements:
A 2017 Ford F-150 Raptor.
A 2015 Ford Mustang GT.
An exposed aluminum single car trailer.
Tool box and a selection of tools from Eastwood tools, including a floor jack, a 160-piece socket set, a 28-piece Hex Torx bit socket set, a combination wrench set, a pry bar, a mechanics hammer set, a pliers kit, and a 7-piece go thru screwdriver set, along with a Capri Tools breaker bar, and a DeWalt impact wrench kit.
Starting on November 25, 2016, you can find out who is the winner by visiting www.americanmuscle.com.
Who Can Enter The American Muscle 10th Anniversary Giveaway
You are eligible to enter and win AmericanMuscle.com's 10th Anniversary Giveaway only if you are a legal resident of the 50 United States, District of Columbia or Canada, who is age 18 or older at the time of entry.