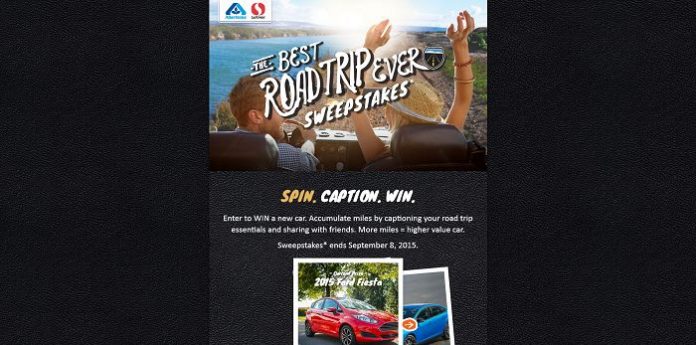 Starting today, share your Best Road Trip Ever with friends at albertsons.com/BRE for a chance to win a new Ford vehicle!
But first things first! Please note that you are eligible to enter and win this sweepstakes only if you meet the following requirements:
you are a legal resident of one of the eligible states (Alaska, Arizona, Arkansas, California, Colorado, Delaware, Hawaii, Idaho, Illinois, Indiana, Iowa, Louisiana, Maine, Maryland, Massachusetts, Montana, Nebraska, Nevada, New Hampshire, New Jersey, New Mexico, North Dakota, Oregon, Pennsylvania, Rhode Island, South Dakota, Texas, Utah, Vermont, Virginia, Washington State, Washington, D.C., and Wyoming),
you live within thirty (30) miles of a participating store ( Albertsons, ACME, Amigos, Jewel-Osco, Market Street, Safeway, Shaw's Supermarkets, Star Markets, CarrsSafeway, Vons, Pavilions, Randalls, Tom Thumb or United Supermarkets);
you are at least eighteen (18) years of age or older at time of entry;
you have a valid email address.
To enter, visit albertsons.com/BRE between 12:01 a.m. MT on Wednesday, August 12, 2015 and 11:59 p.m. MT on Tuesday, September 8, 2015 then get started by selecting your local store. Next, either connect with Facebook or register by providing your name, email address and phone number then press "Next" to move forward. Push the "Start" button to see which items you'll be taking with you! Using the photos displayed onscreen, tell a road trip story using one of the provided intros and conclusions and submit your story. Remember, you can write as many stories as you want during the Promotion Period.
Be sure to share your story via Facebook, Twitter, Google+ and Pinterest and encourage your friends to vote for your story. The five (5) stories with the most votes, will be declared the finalists and will be eligible to win the grand prize!
One lucky Grand Prize Winner from each Division will receive a 2015 Ford vehicle ranging from $13,000 to $45,000 in value, as detailed below: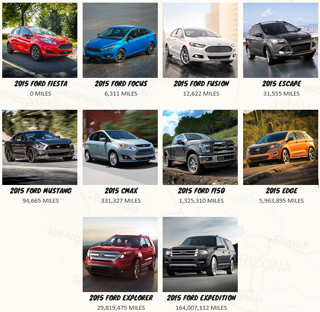 The more entries and shares, the better the car!