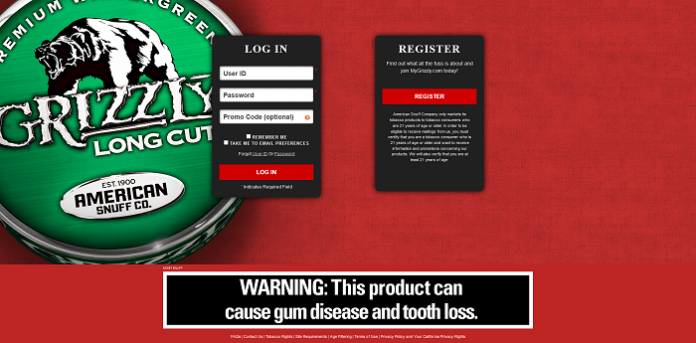 The MyGrizzly.com Pouch Upgrade Sweepstakes at mygrizzly.com/upgrade is a newly launched Giveaway from American Snuff Company that is only offered and open to tobacco consumers who are 21 years of age or older.
Each week, for 7 weeks, participants can win new prizes ranging from backyard and workshop tools to man cave and outdoor gear. On the last week, 2 lucky consumers will receive their choice of a 2016 Dodge Challenger SRT Hellcat or a 2016 Ford Super Duty F-250 Platinum.
Over $180,000 in prizes are available to be won. Don't miss out and enter now at mygrizzly.com/upgrade!
How The Pouch Upgrade Sweepstakes Works
The MyGrizzly.com Pouch Upgrade Sweepstakes runs from April 12, 2016 until May 31, 2016 and consists of 7 Weekly Entry Periods. Participants can enter only once per week for a chance to win the prizes associated with the Weekly Theme.
Upgrade Your Backyard: April 12 – 18, 2016.
Upgrade Your Lawn: April 19 – 25, 2016.
Upgrade Your Workshop: April 26 – May 2, 2016.
Upgrade Your Man Cave: May 3 – 9, 2016.
Upgrade Your Weekend Gear: May 10 – 16, 2016.
Upgrade Your Great Outdoors: May 17 – 23, 2016.
Upgrade Your Ride: May 24 – 31, 2016.
Each Weekly Entry Period starts at 12:00:00 am ET and ends at 11:59:59 pm ET on the applicable day.
Visit MyGrizzly.com/Upgrade To Participate
Once per week, MyGrizzly.com registered users are encouraged to take a picture of something they would like to upgrade in order to participate in the MyGrizzly.com Pouch Upgrade Sweepstakes. Participants must then visit mygrizzly.com/upgrade to enter the Sweepstakes by submitting the picture they took.
As part of the entry process, registrants will be provided with a choice of prizes for the corresponding Weekly Theme. The registrant must select the prize for which he/she want to be entered to win.
Upon completing the Sweepstakes entry form, a participant will be automatically entered into the applicable Weekly Entry Period. Participants can return each week and upload a new photo for a chance to win one of the available prizes.
What You Can Win
Week 1:
A Weber Genesis S-330 3-Burner Gas Grill.
A Weber 18-in Smokey Mountain Cooker.
A Fire Sense Commercial Round Patio Heater.
A Sojoe Wildlife Fire Pit.
A Kansas City Steak Company Kansas City's Best USDA Prime Steaks.
A RCS 4.6 cu. ft. Outdoor Compact Stainless Steel Refrigerator.
12 Yeti Rambler Colsters.
An Hatteras Hammock Pillowtop Hammock – Echo Limelight.
An ION Tailgater Active iPA30A.
A Silverscreen Indoor/Outdoor Series Theater System.
Week 2:
A John Deere D105 17.5-HP Automatic 42" Riding Lawn Mower.
A Husqvarna 28cc 2-Cycle Heavy-Duty Handheld Gas Leaf Blower with Vacuum Kit.
A Husqvarna 323-Ex Edger.
A Husqvarna Curved Shaft Trimmer.
A Husqvarna 445 Chain Saw.
A Remington Maverick Pole Saw.
A Honda Mini Tiller.
A Briggs & Stratton POWERflow 3,000-PSI 5-GPM Cold Water Gas Pressure Washer (CARB).
A Mosquito Magnet Patriot Mosquito Trap.
A Predator 6.5 HP (212cc) Chipper Shredder.
Week 3:
A Craftsman 500-Piece Mechanics Tool Set & 26″ Heavy-Duty 9-Drawer Red & Black Tools Storage Combo.
A Milwaukee M18 18-Volt Lithium-Ion Cordless Combo Kit (9-Tool Set).
A DELTA 5000 Series 15-Amp 10-in Table Saw.
A DEWALT DCS331B 20-Volt MAX Li-Ion Cordless Jig Saw.
A DEWALT DCS380P1 20V MAX Lithium Ion Reciprocating Saw Kit.
A Kobalt 45-in W x 36-in H 3-Drawer Wood Work Bench.
A Rockwell RK7033 Shop Series 10" Drill Press.
A PORTER-CABLE 15-Amp 2-Blade Planer.
A PORTER-CABLE 10-Amp Bench Jointer.
A Bosch 2.25-HP Variable Speed Corded Router.
Week 4:
A LG Infinia 60″ HDTV $1,563.00
12 Yeti Rambler Lowball 10 oz. Tumblers.
An Hathaway Kingston Walnut 3-in-1 Poker Table.
An American Heritage Athos Bristle Dart Board.
An Avantco 6.1 cu. ft. Kegerator with Stainless Steel Door.
A Catnapper Top Gun Leather Theater Recliner.
A Frigidaire 18 cu. ft. Stainless Steel Refrigerator.
A Voit Foosball Table.
An Americana Bar.
A JBL – Cinema 510 5.1-Channel Home Theater Speaker System with 6.5″ Powered Subwoofer.
Week 5:
A Napier Sportz Avalanche Truck Tent.
A 4-PC Weather Resistant Modular Sleep System with Waterproof Gore-Tex® Cover.
An Ocean Kayak Prowler Big Game II Kayak.
A Lew's Tournament Pro G Speed Spool Low-Profile Baitcast Reel.
A Yeti Tundra 35 Cooler.
A Honda EU2000 Portable Inverter Generator.
A Garmin eTrex 30x Handheld GPS.
A Leupold VX-1 3x to 9x Rifle Scope.
A California Board Company 10 Six Soft Stand-Up Paddleboard Package.
A 2016 Kawasaki Brute Force 300 ATV.
Week 6:
A Kawasaki Mule Pro-DXT EPS.
A 2016 TRACKER Pro Team 190 TX.
Week 7:
A 2016 Dodge Challenger SRT Hellcat.
A 2016 Ford Super Duty F-250 Platinum.
Who Are The Winners
To obtain a complete list of winners, you can send a stamped, self-addressed envelope to: Grizzly Pouch Upgrade Giveaway Winners, Ref: WG, c/o Ventura Associates International LLC, 60 East 42nd Street, Suite 650, New York, NY 10165.
The names of the winners will be available starting on August 31, 2016.
Eligibility
The MyGrizzly.com Pouch Upgrade Sweepstakes is open to legal residents of the United States and the District of Columbia. Excludes residents of Massachusetts and Michigan. Participants must be tobacco consumers who are 21 years of age or older at time of entry. Must also be a registered user of www.mygrizzly.com to enter.