Outdoor Channel's Gear Up and Go 2013 Sweepstakes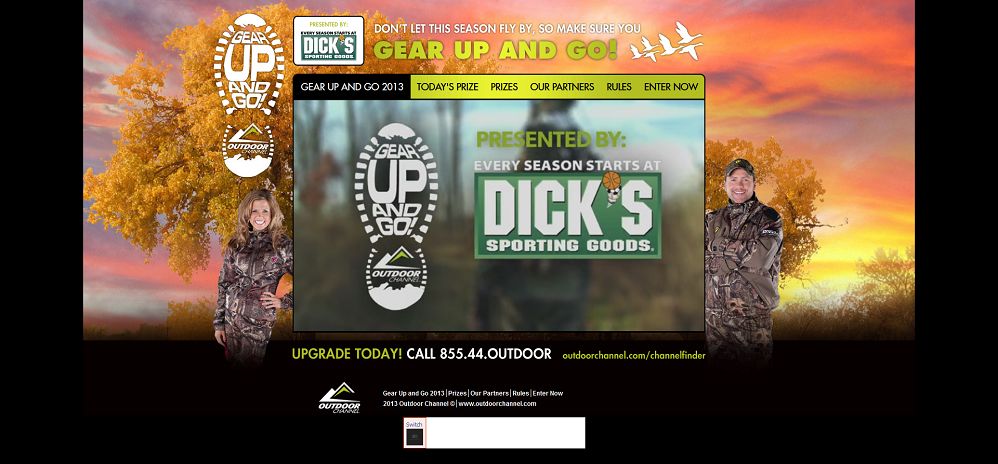 How To Enter : Throughout the Sweepstakes Period, you may enter the Sweepstakes online by visiting http://gearupandgo.dja.com (the "promotional site"), or by visiting http://www.outdoorchannel.com and following the links to the promotional site.  When you follow the links on the promotional site to enter, you will be asked to enter your email address, and will then be brought to a registration form. You must complete the required information on the online registration form and click on the "Submit" button to enter
Eligibility : Outdoor Channel's Gear Up and Go 2013 Sweepstakes (the "Sweepstakes") is open only to permanent legal residents of the U.S., who are twenty-one (21) years of age or older as of October 1, 2013.
Timing : The Sweepstakes begins at 12:00:00 AM Eastern Time ("ET") on October 1, 2013 and ends at 11:59:59 PM ET on October 31, 2013 (the "Sweepstakes Period").
Limit : Limit one (1) Daily entry, and therefore one (1) Grand Prize entry, per person/email address per day during the Daily Entry Period. Limit one (1) Grand Prize entry per person/email address during the Grand Prize Bonus Entry Period.
Prize (s) :
| | | | | | |
| --- | --- | --- | --- | --- | --- |
| Day | Date | Prize | # Of Winners | ARV Per Prize | Total ARV |
| Tuesday | 1-Oct | One (1) Gift Card Redeemable For One (1) Pair Of Irish Setter Boots | 3 | $220.00 | $660.00 |
| Wednesday | 2-Oct | One (1) Primos Prize Package which includes one (1) Truth Cam El Blackout, Two (2) QS3 Magnum Tri-Stools, and one (1) Bench Anchor | 1 | $357.00 | $357.00 |
| Thursday | 3-Oct | One (1) Fishing Trip Package for the winner and one (1) guest to Chase On The Lake in Minnesota which includes the following: (a) round trip coach class air transportation for two (2) from a major airport nearest to the winner's residence to a major airport in MN; (b) one (1) car rental for the duration of the trip; (c) three (3) nights accommodations in a hotel room (standard room, double occupancy) at Chase On The Lake; and (d) one (1) check for one thousand dollars which can be used toward guided fishing excursions while on the trip. | 1 | $3,000.00 | $3,000.00 |
| Friday | 4-Oct | One (1) GSM Stealth Cam Prize Pack which includes one (1) UNIT X OPS Model STC-U838NG and one (1) Security Bear Box Model STC-BBU with a 16GB memory Card | 1 | $160.00 | $160.00 |
| Saturday | 5-Oct | One (1) Gift Card Redeemable For One (1) Pair Of Irish Setter Boots | 4 | $220.00 | $880.00 |
| Sunday | 6-Oct | One (1) Streamlight Waypoint Yellow | 1 | $100.00 | $100.00 |
| | | One (1) Streamlight Waypoint Black | 1 | $100.00 | $100.00 |
| Monday | 7-Oct | One (1) Rack1 Ignite System Prize Package which includes one (1) Overload, One (1) Xcellerator, One (1) Chaos, One (1) RutFuel and One (1) Acorn Crush | 2 | $111.00 | $222.00 |
| Tuesday | 8-Oct | One (1) Streamlight Buckmaster's® Camo Trident RealTree® Hardwoods® Camo | 5 | $52.00 | $260.00 |
| Wednesday | 9-Oct | One (1) Primos Prize Package which includes one (1) Stray Cat™, one (1) Alpha Dogg™ and one (1) Primos Control Freak™ Kit | 1 | $534.00 | $534.00 |
| Thursday | 10-Oct | One (1) Gift Card Redeemable For One (1) Pair Of Irish Setter Boots | 4 | $220.00 | $880.00 |
| Friday | 11-Oct | One (1) GSM Walkers Game Ear Prize Pack which includes one (1) pair of Alpha Muffs and one (1) pair of Sport Glasses | 1 | $57.00 | $57.00 |
| Saturday | 12-Oct | One (1) Gift Card Redeemable For One (1) Pair Of Irish Setter Boots | 4 | $220.00 | $880.00 |
| Sunday | 13-Oct | One (1) Streamlight ProTac® 2L | 2 | $80.00 | $160.00 |
| Monday | 14-Oct | One (1) Rack1 Ignite System Prize Package which includes one (1) Overload, One (1) Xcellerator, One (1) Chaos, One (1) RutFuel and One (1) Acorn Crush | 2 | $111.00 | $222.00 |
| Tuesday | 15-Oct | One (1) Streamlight The Seige ® Lantern | 3 | $60.00 | $180.00 |
| Wednesday | 16-Oct | One (1) Primos Prize Package which includes one (1) Bi Pod Trigger Stick, one (1) Two Point Gun Rest and one (1) Neoprene Bow Sling | 1 | $228.00 | $228.00 |
| Thursday | 17-Oct | One (1) 3 Night Turkey Hunting Camp Trip for the winner and one (1) guest to the Turkey Track Club in South Dakota. Includes (a) round trip coach class air transportation for two (2) from a major airport nearest to the winner's residence to Rapid City Airport; (b) ground transportation to/from the Rapid City Airport to/from the Turkey Track Club; (c) three (3) nights accommodations in the Lodge for the winner and guest; (d) three (3) days of Turkey Hunts which include a guide; and (e) three (3) meals daily and beverages during the stay. (Turkey Camps Run April 13 – May 4 (in various three (3) day runs) and must be booked in advance. License is NOT included and must be purchased in advance (estimated $85). | 1 | $3,000.00 | $3,000.00 |
| Friday | 18-Oct | One (1) GSM Western Rivers Prize Pack which includes the Game Stalker Pro and the Deceptor Rabbit Decoy | 1 | $235.00 | $235.00 |
| Saturday | 19-Oct | One (1) Gift Card Redeemable For One (1) Pair Of Irish Setter Boots | 4 | $220.00 | $880.00 |
| Sunday | 20-Oct | One (1) Streamlight Buckmaster's® PackMate RealTree® Hardwoods® Green Camo | 5 | $84.00 | $420.00 |
| Monday | 21-Oct | One (1) Rack1 Ignite System Prize Package which includes one (1) Overload, One (1) Xcellerator, One (1) Chaos, One (1) RutFuel and One (1) Acorn Crush | 2 | $111.00 | $222.00 |
| Tuesday | 22-Oct | One (1) Streamlight ProTac® HL™ | 3 | $135.00 | $405.00 |
| Wednesday | 23-Oct | One (1) Primos Prize Package which includes one (1) Jim Shockey Tall Tri-pod, one (1) Double Bull Double Wide Door Ground Blind and one (1) Truth Cam Supercharged Blackout | 1 | $796.00 | $796.00 |
| Thursday | 24-Oct | One (1) 2 Night Fishing Trip for the winner and one (1) guest to the Tarpon Lodge in Florida. Includes (a) round trip coach class air transportation for two (2) from a major airport nearest to the winner's residence to a major airport near the lodge (b) ground transportation to/from the airport to/from the Tarpon Lodge (c) Two (2) nights accommodations in a hotel room (standard room, double occupancy) at the Tarpon Lodge; (d) two days of guided fishing excursions; and (e) two (2) lunches and two (2) dinners at the restaurant on the property awarded in the form of a $650 gift card. | 1 | $3,200.00 | $3,200.00 |
| Friday | 25-Oct | One (1) GSM Cyclops Prize Pack which includes one (1) REVO 900 Hand Held Spotlight Model CYC-X900H as well as one (1) Ranger Camo Headlamp | 1 | $107.00 | $107.00 |
| Saturday | 26-Oct | One (1) Gift Card Redeemable For One (1) Pair Of Irish Setter Boots | 4 | $220.00 | $880.00 |
| Sunday | 27-Oct | One (1) Streamlight Strion LED with AC/DC | 1 | $181.00 | $181.00 |
| Monday | 28-Oct | One (1) Rack1 Ignite System Prize Package which includes one (1) Overload, One (1) Xcellerator, One (1) Chaos, One (1) RutFuel and One (1) Acorn Crush | 2 | $111.00 | $222.00 |
| Tuesday | 29-Oct | One (1) GSM Maestro Game Calls Prize Pack which includes one (1) Big Love Long Box call as well as one (1) 3-pack of different Hunters Calls | 1 | $100.00 | $100.00 |
| Wednesday | 30-Oct | One (1) Irish Setter Las Vegas Shot Show VIP Trip Package (for winner and guest) and Two (2) Gift Cards each redeemable for One (1) Pair Of Irish Setter Boots. The VIP Trip Package includes: (a) two (2) round trip coach class air transportation tickets for the winner and one (1) guest; (b) three (3) nights of hotel accommodations in Las Vegas (standard room, double occupancy); (c) two (2) VIP tickets to the Golden Moose Awards Dinner for the winner and one (1) guest; (d) two (2) VIP tickets to the Golden Moose Awards for the winner and one (1) guest; (e) the potential opportunity to meet and greet certain Outdoor Channel talent; and (f) the potential opportunity to take part in a sixty (60) second red carpet Golden Moose Awards interview for outdoorchannel.com "brought to you by Irish Setter." | 1 | $2,220.00 | $2,220.00 |
| Thursday | 31-Oct | One (1) 4 Night Trip for the Grand Prize winner and one (1) guest to the Nemacolin Woodlands Resort Chateau Lafayette. Includes (a) round trip coach class air transportation for two (2) from a major airport nearest to the Grand Prize winner's residence to a major airport near the Nemacolin; (b) ground transportation to/from the airport to/from the Nemacolin; (c) Four (4) nights accommodations in a hotel room (standard room, double occupancy); and (d) two thousand dollars ($2,000) in Nemacolin Woodlands Resort Amenity Credits to spend on activities and dining during the stay. | 1 | $5,500 | $5,500 |
Total ARV of all prizes : $27,248