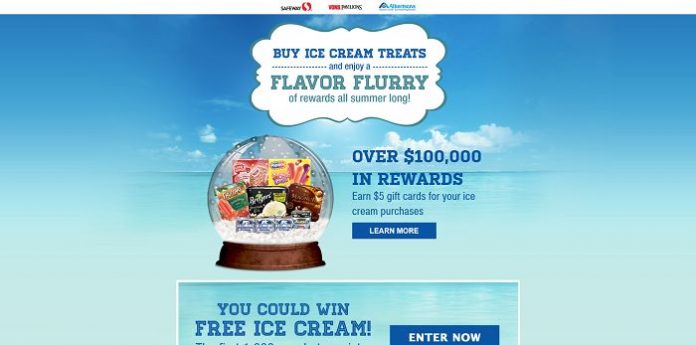 Albertsons and Safeway shoppers! Here are two great promotions just for YOU!
First, let's start with the Flavor Flurry Ice Cream $100,000 Rewards Program. Starting on July 15th, buy two (2) Unilever ice cream products at any participating Albertsons or Safeway locations to receive one (1) Flavor Flurry code on your receipt. Collect two (2) codes and register at FlavorFlurry.com to receive a $5 Reward Gift Card. Over $100,000 in rewards will be given away.
Secondly, still at FlavorFlurry.com, enter the Flavor Flurry Ice Cream Sweepstakes by completing the registration form. You'll be required to provide your contact information and select your preferred store to earn one (1) entry into the applicable Entry Period. Entries will not be carried forward so keep entering daily through September 16, 2015 for more chances to win.
A total of eight (8) winners, one per entry period, will receive a $260 Albertsons or Safeway gift card towards the purchase of ice cream for a year.
Each of the eight (8) entry periods start at 12:00 p.m. ET and end at 11:59 a.m. ET, as detailed below:
Entry Period #1: Between July 17, 2015 and July 24, 2015.
Entry Period #2: Between July 24, 2015 and July 31, 2015.
Entry Period #3: Between July 31, 2015 and August 7, 2015.
Entry Period #4: Between August 7, 2015 and August 14, 2015.
Entry Period #5: Between August 14, 2015 and August 21, 2015.
Entry Period #6: Between August 21, 2015 and August 28, 2015.
Entry Period #7: Between August 28, 2015 and September 4, 2015.
Entry Period #8: Between September 4, 2015 and September 16, 2015.
These Promotions are open only to legal residents of the 50 United States and the District of Columbia (except residents of New York and Florida), 18 years of age and older as of date of Entry.