Mr. MONOPOLY is celebrating the new MONOPOLY Ultimate Banking game in a big way! Could you be the next lucky winner of the Monopoly Vault Giveaway? Enter your Vault Giveaway card code at MonopolyVault.com and see if you are a winner!
If you purchased the new inside specially marked Monopoly Ultimate Banking game, you may have a winning game piece in your hands! And it could worth up to $20,580! Plus, you could win one of over 5,000 MONOPOLY Visa Prepaid Rewards valued at up to $500.
Simply enter your promotion code from your Vault Giveaway card at www.MonopolyVault.com now to find out!
Visit MonopolyVault.com To Enter The Code From Your Vault Giveaway Card
Once you obtained a promotional Vault Giveaway Card that can be found inside specially marked Monopoly Ultimate Banking games, visit MonopolyVault.com to enter the code from your card. Simply complete the following steps to participate.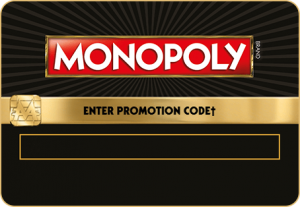 Go to www.MonopolyVault.com using your computer, tablet or smartphone.
Enter your date of birth along with your country of residence and click "Enter Now".
Enter the Promotion Code in the applicable field and complete the registration form as directed.
Click "Register" to complete your entry.
You will immediately see if you are a winner and discover the prize you won.
Monopoly Ultimate Vault Giveaway Details
You may participate in the MONOPOLY Ultimate Vault Giveaway if you are a legal resident of one of the 50 United States or the District of Columbia. Also, you must be at least 18 years old to enter and win.
No purchase necessary. You may obtain a free game code by mail or online by following the instructions.
The Giveaway is set to conclude on January 15, 2017 at 11:59 p.m. ET.
Up to 7,423 prizes are up for grabs.
Hasbro is giving away a total of $105,000 worth of prizes during the Promotion Period.
Sponsored by Hasbro, Inc.
For more information on the Monopoly Ultimate Vault Giveaway, including official rules, visit www.MonopolyVault.com here.