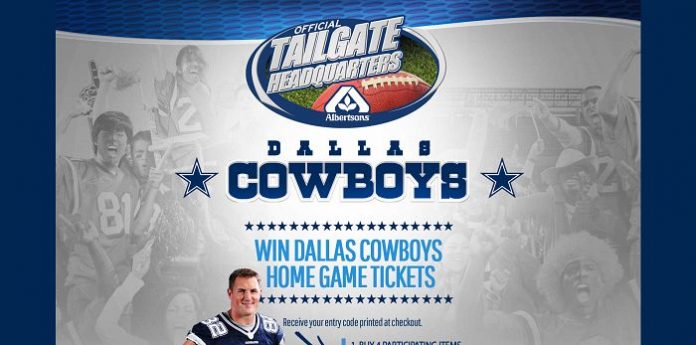 Hey Dallas Cowboys fans! This football season, Albertsons is giving away tickets to each 2015 Dallas Cowboys Regular Season Home Game in the Albertsons 2015 Dallas Cowboys Ticket Giveaways!
Now through December 25th, buy four participating items at any participating Albertsons in Texas and Arkansas to receive a prize code or wear your Cowboys jersey on Cowboys game day and receive an entry form through Catalina coupon printers at checkout. Then, submit your prize code at either albertsonscowboys.com or albertsons.com/cowboys to be entered into the Giveaway.
Alternatively, you may also enter without a purchase by mailing a 3″x 5″ piece of paper containing your full name, home mailing address, phone numbers, email address, and date of birth in an envelope with proper postage to "Albertson's 2015 Dallas Cowboys Ticket Giveaway", 7580 Oak Grove Road, Fort Worth, Texas 76140.
Albertsons will award a total of forty pairs of tickets, five per drawing date, to the following 2015 Dallas Cowboys Regular Season Home Games:
September 13, 2015
September 27, 2015
October 11, 2015
November 1, 2015
November 8, 2015
November 26, 2015
December 19, 2015
January 3, 2016
In order to enter, you must be at least 18 years of age as of September 2, 2015 and a legal U. S. resident residing in Texas or Arkansas living within 50 miles of a Participating Store to win.