Tag: Family Dollar Contest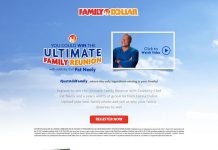 Want to win the Ultimate Family Reunion with celebrity chef Pat Neeley? All you have to do is register your family at familydollar.com/Reunion and tell why your family should be chosen for this amazing prize!
Enter the Family Dollar Family Moments Essay Contest for a chance to win 1 of 50 Family Dollar $50 Gift Certificates !