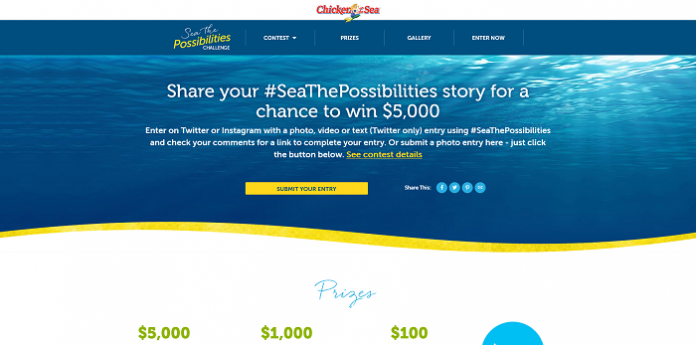 Are you ready to enter the ChickenOfTheSea.com Sea The Possibilities Challenge? The last challenge, Live Large, has just started and it's all about exploring more. Upload a video or a photo of you completing the last challenge for your final chance to win up to $5,000 in cash.
When To Participate
The ChickenOfTheSea.com Sea The Possibilities Challenge consists of Monthly Contests and Weekly Sweepstakes running between January 20, 2016 and April 13, 2016.
Monthly Contests:
January (Get Healthy): From January 20, 2016 to February 16, 2016
February (Give Kindness): From February 17, 2016 to March 15, 2016
March (Live Large): From March 16, 2016 to April 13, 2016
Weekly Sweepstakes:
Week #1: Between January 20, 2016 and January 26, 2016
Week #2: Between January 27, 2016 and February 2, 2016
Week #3: Between February 3, 2016 and February 9, 2016
Week #4: Between February 10, 2016 and February 16, 2016
Week #5: Between February 17, 2016 and February 23, 2016
Week #6: Between February 24, 2016 and March 1, 2016
Week #7: Between March 2, 2016 and March 8, 2016
Week #8: Between March 9, 2016 and March 15, 2015
Week #9: Between March 16, 2016 and March 22, 2016
Week #10: Between March 23, 2016 and March 29, 2016
Week #11: Between March 30, 2016 and April 5, 2016
Week #12: Between April 6, 2016 and April 13, 2016
You can enter up to four times per Monthly Contest and each contest submission will result in one entry into the applicable Weekly Sweepstakes. Each entry into the Weekly Sweepstakes will roll over to all subsequent Weekly Sweepstakes.
How To Complete A Challenge
Beginning on March 16, you can enter the Live Large Challenge by selecting a challenge in one of the following challenge categories: In the Kitchen, Better Everyday or Go Big. Capture your story by snapping a photo or by recording a video of yourself. You can also write a short description of your story. Once ready, you can share using one of the following three methods:
Online: Visit chickenofthesea.com/possibilities and register by providing all requested information. You will also be required to upload a photo and describe your challenge is less than 250 characters.
Twitter: Share your story on Twitter using the hashtag #SeaThePossibilities and including a short challenge description.
Instagram: Post your story with #SeaThePossibilites and include a short challenge description.
Prizes
Monthly Category Contest Winners (9): A check in the amount of $1,000.
Grand Prize Contest Winner (1): $5,000 cash, awarded in the form of a check.
Weekly Sweepstakes Winners (12): A $100 VISA Gift Card.
Eligibility
The Chicken Of The Sea Sea The Possibilities Challenge is open to legal residents of the fifty (50) United States and the District of Columbia who are eighteen (18) years of age or older and/or have reached the age of majority in their state of residence.