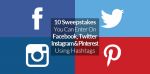 Find the hashtags and share/post on Facebook, Twitter, Instagram or Pinterest for your chance to win!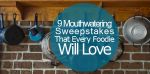 Food and sweepstakes combined! This might be the best combo ever!
With prizes including cash, mortage-free payments and a 2,300-square-foot modern Austin farmhouse valued at over $1 million, here are the new and upcoming HGTV Sweepstakes you don't want to miss this year!