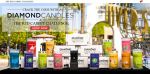 Are you ready to crack the code with Diamond Candles and Extra? You could win a trip to LA to attend a star-studded Red Carpet plus, a $1,500 shopping spree and a $15,000 diamond ring!
This month, Travel Channel is giving away a $10,000 trip to Punta Cana, Dominican Republic including airfare, first class hotel accommodations and more!
Travel Channel's The Trip Sweepstakes is back! Enter at travelchannel.com/thetrip and this time, you'll have the chance to win a $100,000 dream vacation to Maui, HI including private tours of Napali, Pearl Harbor, the Honolulu Fish Auction and more!